Holiday Crafting Ideas
A range of projects for your
crafty seasonal downtime
Start Crafting
Stocking Stuffers
Mostly itty bitty items perfect for stockings and Advent calendars
Start Stuffing
Gift Guide
Perfect presents for the crafter in
your life, including gift cards
start shopping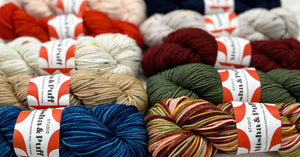 Knit & Crochet Kits
Shop Our Project Kits
Get Your Fiber
Shop Yarn & Fiber
Kit, Kit, Hooray!
Shop Needlework & Felting
Spun is a family-owned yarn and fiber crafts shop in Ann Arbor's historic Kerrytown District. We're a welcoming and inclusive space that brings people together through the joy of crafting. Whether you're a novice knitter, committed stitcher, or simply looking for a new pastime, you are welcome here. 
read our story
Classes & Events
We believe making things together creates community. Come for the crafts, stay for the fun of it.
Browse Now
Community Giving
Taking care is a group effort. Learn about the local programs we partner with to support the community—and how you can help!
Learn More
During these trying times, it's great to know there is somewhere you can go to feed your need for creativity and beauty. And be treated very well.

Cary M.
The store is welcoming, the staff is wonderful and really helpful and the yarn is yummy.

Mary M.
It's a wonderful yarn shop and they carry all kinds of accessories, books, patterns, samples... all kinds of inspiration!

Mary B.
Visit our Store
Kerrytown Market & Shops
410 N. 4th Ave.
Ann Arbor, MI 48104
734-780-7867
Mon-Thu 10-8
Fri 10-6
Sat 9-6 
Sun 11-5